Can a Home Recover After Dirty Water Intrusion?
10/30/2020 (Permalink)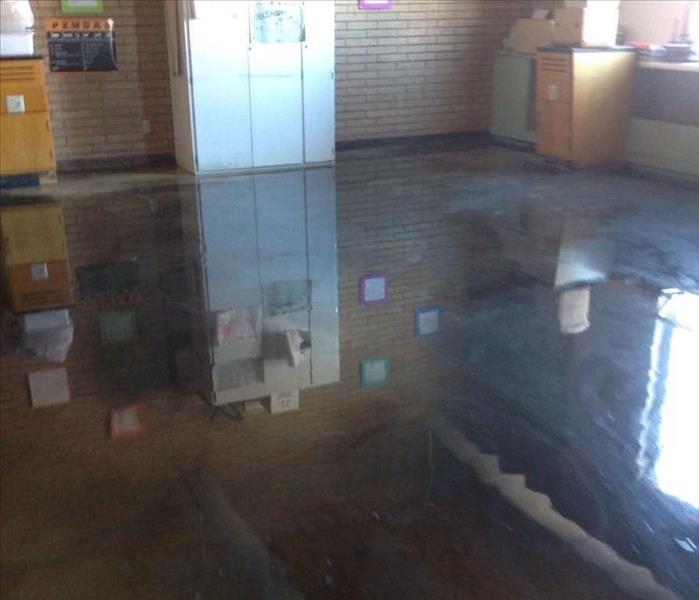 Great Falls Homeowners always rely on SERVPRO for removal of water after plumbing or sewage problems. We're Faster To Any Size Disaster.
SERVPRO Water Cleanup Services Help Great Falls Residents to Overcome Water Intrusion from Unsanitary Sources.
How does dirty water affect water restoration?
Water can enter your Great Falls home from clean or unsanitary sources. A typical example of dirty water could include a sewer backup or a bust in a wastewater supply. There are varying levels of water contamination that can affect your home. Blackwater refers to category three water contamination and could include raw sewage. Greywater may come from exterior sources or wastewater supply lines. These water intrusion types can be tough to clean without professional assistance, and it is crucial to identify affected materials to restore or replace them. A home with category two or three-level water intrusion can be odorous, support the growth of microbial bacteria, viruses, or fungi, and affect your health. Sometimes, water can reside in materials or building assembly and continue to damage your home after the initial intrusion is cleaned.
How do technicians decontaminate a dirty water intrusion?
The goal of water cleanup for your Great Falls home is to return it to a sanitary state. In situations where there are biohazardous substances, technicians must disinfect the area to ensure your family remains safe. An initial layering of disinfectants can help to reduce the potential losses associated with contaminated water. A second treatment is required before applying biocides to the clean surfaces, which can break down microbial organisms. These home areas can be highly infectious, which is why technicians need to wear full personal protective equipment (PPE), including splash goggles, chemical resistant clothing, and respiration apparatus. Generally, non-porous surfaces like tiles or porcelain can return to a preloss condition with chemical cleaning actions.
How are chemical agents applied to water losses in homes?
Mixing the correct quantities of an EPA-registered broad-spectrum disinfectant for direct application onto surfaces.
Allow the product to remove bacteria or dirt by providing enough dwell time in accordance with the manufacturer's guidance.
Maintaining pH levels and the correct temperature within the affected area to ensure that disinfectants are at their most effective.
What are chemical agents used in water restoration?
When dealing with a house with contaminated water intrusion, there are various powerful cleaning agents used to destroy potentially harmful bacteria. To create a safer environment and return your home to its preloss condition, our technicians undergo extensive training in the usage of chemical products. These agents could include antimicrobial chemicals that reduce microorganisms in the water by preventing them from reproducing. Disinfectants and sanitizers are more aggressive methods of killing these microorganisms to return the home to a safe state. Sterilizing agents may sometimes be used; however, these aggressive chlorine-based products can often damage materials and are reserved for exceptional circumstances. After applying chemical agents, we frequently deodorize properties to reduce unpleasant odors from both water intrusion and chemical action.
What are the types of chemical agents used to reduce water contamination?
Phenolics have a strong odor but can be useful as disinfectants, antiseptics, and antimicrobials. These can also be misted using an ultra low-volume fogger.
Quaternary compounds can sanitize an environment by breaking down micro-organisms at a cellular level.
Chlorine can damage materials and be an effective, low toxicity cleaning agent for dealing with stains or soiling in the property.
Why do technicians use different types of disinfectants?
Most chemical cleaning agents reduce or destroy microorganisms that could be making your home unsanitary. However, a typical water intrusion event can contain hundreds of different species of fungi, bacteria, or viruses. A single, multi-use disinfectant kills not all of these species. To ensure that your home returns to a safe and sanitary condition, technicians need to use multiple types of cleaners to capture all potential contamination. In some circumstances, SERVPRO technicians work closely with an industrial hygienist to return a property to its preloss state. Suppose you are remaining in the property during restoration. In that case, we may have to use low toxicity cleaning agents so that you can resume your everyday life during the cleaning process.
What guidance should be followed when using chemical agents?
The environmental protection agency (EPA) has federal guidelines for using chemical agents within a home environment.
The EPA and state law govern how chemical cleaners are disposed of, with some types unsafe to disperse into waterways or local sewer points.
Manufacturer guidelines for the safe dilution, temperature, and dwell times of chemical agents must be followed at all times to avoid secondary damages.
Contaminated water intrusion events can make your home unsafe to live in. Contact SERVPRO of Helena & Great Falls at (406) 458-6008.